The use of this seal confirms that this activity has met HR Certification Institutes (HRCI) criteria for recertification credit pre-approval.
This activity has been approved for 1 HR (General) recertification credit hours toward aPHR, PHR, PHRca, SPHR, GPHR, PHRi and SPHRi recertification through HR Certification Institute (HRCI). Please make note of the activity ID number on your recertification application form. For more information about certification or recertification, please visit the HR Certification Institute website at www.hrci.org." ...more
---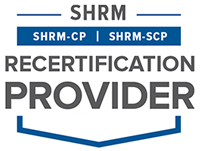 HRTrainOnline is recognized by SHRM to offer Professional Development Credits (PDCs) for the SHRM-CP® or SHRM-SCP®.
?
1-hour educational program = 1 PDC.
1-hour and 15 minute concurrent conference session = 1.25 PDCs.
3-hour e-learning course = 3 PDCs.
Overview:
The webinar will commence with an introduction to AI and its current impact on human resource jobs.
We will delve into the ways AI is reshaping the HR landscape, from recruitment and talent acquisition to employee development and retention. Our speaker will share real-life case studies, showcasing the transformative potential of AI in streamlining HR processes, automating routine tasks, and enhancing decision-making accuracy.
This course will inspire and equip you with practical strategies for leveraging AI to drive your organizational success.
This session is delivered by Brenda Neckvatal, a 2x best-selling author and award-winning HR professional. She will provide tangible action steps for HR leaders and business leaders to manage the use of AI technology across the HR role, including helpful tips and tricks you can use to mitigate unknown and unrealized risks.
As AI continues to advance, concerns arise regarding the ethical and social implications of its deployment. Brenda will dive into the potential risks and pitfalls that companies must navigate when implementing AI in HR. She will explore the biases that AI systems can inherit, such as gender or racial biases, and examine strategies to mitigate them. By addressing these challenges head-on, we can ensure that AI technologies contribute to a fair and EEO-friendly workplace environment.
She will highlight the importance of maintaining a balance between automation and human touch. While AI can streamline processes and improve efficiency, it is crucial not to overlook the human-centric aspects of HR. Brenda will discuss how HR professionals can harness AI's capabilities while preserving the essential role of empathy, emotional intelligence, and interpersonal skills in managing and developing human capital.
Whether you are an HR professional seeking to embrace AI technologies and their applications in HR, or a business leader looking to leverage the potential of AI in your organization, this webinar is designed to cater to your needs. Don't miss this opportunity to stay at the forefront of the AI revolution in HR! Join us for this illuminating webinar and reserve your spot today. Together, let's unlock the full potential of AI while shaping a future where technology and human-centric HR practices harmoniously coexist.
Why should you Attend:
In an era dominated by cutting-edge technologies, the role of AI, particularly ChatGPT, in revolutionizing human resources cannot be overlooked. In this engaging 1-hour session, Brenda will shed light on how AI, including ChatGPT, can both empower and pose challenges to companies in the realm of human resources. Our expert speaker is an industry leader and will demonstrate through thought-provoking examples what HR professionals should be aware of, providing you with a comprehensive understanding of the advantages and potential pitfalls associated with the integration of AI in HR practices.
Throughout the webinar, participants will have the opportunity to engage in interactive discussions, ask questions, and gain valuable insights from our distinguished speaker. We encourage you to share your experiences, challenges, and success stories related to AI implementation in HR.
By the end of this session, you will have a nuanced understanding of the benefits, challenges, and responsible use of AI and ChatGPT in human resources management. You will be equipped with the knowledge and tools to harness the power of AI while safeguarding the integrity of your HR practices.
Join us for an insightful webinar as we debunk the myths surrounding AI and explore its profound implications for human resources management.
Areas Covered in the Session:
The most common concerns Brenda addresses with the use of AI and ChatGTP in HR are:
I don't know how to use it
I don't know what to be cautious of
I'm afraid I'm going to make a mistake
Who Will Benefit:
HR professionals
HR managers
HR Directors
HR coordinators
HR administrators
HR Generalists
Human Resource Business Partners
CEOs
Presidents
Owners
Partners
Instructor:

Brenda Neckvatal is an international award-winning HR professional and two time Best Selling Author. Not only does she help business leaders get the people side of their business right, she is a specialist in crisis management, government contracting HR compliance, and mentor to rising entrepreneurs, business leaders, HR champions and professionals. Brenda has been featured in Forbes, Fast Company, Inc, as well as US News and World Reports. She started as an HR sprout after a solid fourteen-year career in retail management. She really enjoys helping people solve their unique problems, and human resources offered her the ability to support her co-workers more. Having the benefit of working for six Fortune 500 companies, she converted her experience into advising her audience to use tried and trusted best practices that help small businesses achieve their workforce goals. In her combined 30-year career in human resources and business, she has consulted with over 500 small businesses and C-suite leaders. She has optimized employee effectiveness and helped mitigate the high costs associated with making hasty employment-related decisions. She has been involved with employee situations where they have engaged in workplace violence, a near stabbing, deliberately inciting fear in other coworkers, stalking women, breaches of protocol around national security, assault, suicide, death, homicide, and a potential active shooter. Brenda is a devoted volunteer in the Navy SEAL Community and is constantly finding new ways of supporting veterans of Naval Special Warfare. She dedicates 32 weeks a year to working with The Honor Foundation to support the career transition of Special Forces personnel by providing them with her knowledge, insight, and creativity. Perseverance, integrity, and relentless optimism are just a few of the ingredients that make up what you experience when meeting and working with Brenda.