The use of this seal confirms that this activity has met HR Certification Institutes (HRCI) criteria for recertification credit pre-approval.
This activity has been approved for 1.5 HR (General) recertification credit hours toward aPHR, PHR, PHRca, SPHR, GPHR, PHRi and SPHRi recertification through HR Certification Institute (HRCI). Please make note of the activity ID number on your recertification application form. For more information about certification or recertification, please visit the HR Certification Institute website at www.hrci.org." ...more
---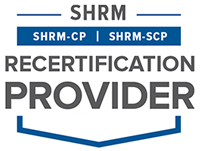 HRTrainOnline is recognized by SHRM to offer Professional Development Credits (PDCs) for the SHRM-CP® or SHRM-SCP®.
?
1-hour educational program = 1 PDC.
1-hour and 15 minute concurrent conference session = 1.25 PDCs.
3-hour e-learning course = 3 PDCs.
Overview:
This new design has caused much confusion for employers and employees alike. Although it is not the employer's responsibility to complete the form for employees (there are default entries for incomplete or missing W4s), a lot of payroll and HR departments are inundated with questions from workers.
Further, the payroll systems need to incorporate all the new information given to them by workers. Employers are also mandated to ensure employees have access to tables and other information so they can properly complete the W4.
Why you should Attend:
In the webinar, employers will learn the new W4 section by section. You will understand all of the following and more:
What sections employees are required to complete, and which are optional?
How to anticipate questions for each of the sections. Where to direct employees to find the answers they need. When to refer them to professionals
How to explain in plain language the nature and purpose of each section. How to explain the tables used, and how each computation will affect employee withholding
What are the "easy ways out" for employees who do not want to spend a lot of time calculating withholdings? When it is wise for an employee to take an easy way out, and when it isn't
Options for intra-year adjustments to the W4
Requirements for employer-created electronic W4 info entry
Areas Covered in the Session:
Recent changes and explanations

From 2021 thru 2023
Systematic and sectional changes

The W4 section by Section

Section 1: employee info
Section 2: Multiple Jobs or spouse works
Section 3: Employee Deductions
Section 4: Other income
Section 5: Employee and Employer Signature and Info

Specifics:

Easy ways out - complete sections 1 and 5 only. Or certify the exempt status
Section 2 - How to determine if this is right for your employee. When to advise them to get a tax consultant
Section 4 - for high-income earners, especially those with large sources of untaxed or undertaxed income. When to advise employees to seek professional help
What to advise employees on, and what not to
How to ensure compliance with IRS regulations on electronic means of collecting this information
FAQ on the W4
How to sleep at night knowing you have done all you can for your valued workers
Who Will Benefit:
Payroll and HR Managers and Staff
Compensation and Hiring Staff
Finance and Operational managers
Executive Staff
Auditors and Reviewers
Instructor:

Mark Schwartz is an employment tax specialist and has over 15 years of employment tax experience as an independent consultant and as a payroll tax auditor with the State of California. He has managed an audit caseload of 20 ongoing audits, from small home-based businesses to large multi-national corporations. He is expert at defining regulatory and statutory requirements from local, State and Federal government agencies; and helping the average businessperson understand what that means to their business. He has processed weekly and bi-weekly payroll checks plus tax forms for businesses with hourly as well as exempt workers, multistate operations and a wide variety of benefits.

Mr.Schwartz provides consulting services encompassing payroll processing and payroll tax issues. These include payroll tax minimization, payroll tax compliance reviews, independent contractor studies, use of electronic transfers, deductions, benefits, etc. Mark has represented both clients and the State in front of the State Appeals Board. He understands the complexities of local wage laws, unemployment and disability claims, and other wage and benefit issues affecting your employees.

Mark prides himself on his outstanding customer service skills. He listens attentively to his clientele, helping them bridge the gap between the small business world and Government bureaucracy. He eagerly assists with clients needs and feels that educating clients toward faster, accurate and more complete payroll processes provide the most value.

Mark is a participating member of the American Payroll Association. He earned his BA and MBA in Finance at Santa Clara University. He has held Certified Internal Auditor and Certified Investment and Derivatives Auditor Credentials. Mark is currently pursuing a Certified Payroll Fundamentals Credential with the American Payroll Association.