The use of this seal confirms that this activity has met HR Certification Institutes (HRCI) criteria for recertification credit pre-approval.
This activity has been approved for 1 HR (General) recertification credit hours toward aPHR, PHR, PHRca, SPHR, GPHR, PHRi and SPHRi recertification through HR Certification Institute (HRCI). Please make note of the activity ID number on your recertification application form. For more information about certification or recertification, please visit the HR Certification Institute website at www.hrci.org." ...more
---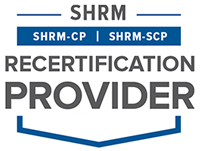 HRTrainOnline is recognized by SHRM to offer Professional Development Credits (PDCs) for the SHRM-CP® or SHRM-SCP®.
?
1-hour educational program = 1 PDC.
1-hour and 15 minute concurrent conference session = 1.25 PDCs.
3-hour e-learning course = 3 PDCs.
Overview:
The transition from staff to "supervisor" can be daunting. You need to learn to thrive in a new supervisory role.
Loaded with practical tools and techniques designed to enhance a new supervisor's leadership communication, delegation, and time management, as well as techniques to acquire the supervisor's mindset and image, this powerful 60-minute program gets results!
Becoming a manager might be a goal and a highlight in your career, but you know that comes with challenges. According to CareerBuilder.com, almost 60% of managers aren't given any skills to help them manage. Being unprepared is not what you need.
In this workshop, you will gain the skills you need to manage your team the right way, and at the right time. Loaded with practical tools and techniques designed to enhance your communication, delegation, and time management, as well as techniques to acquire the manager's mindset and image, this powerful program gets results!
Why you should Attend:
You've got the promotion. You're all excited except there are a few things that you aren't sure how to handle. You want to be a great manager, but no one has told you how to be a great manager.
You want to maintain your friendships with your buddies, but you still need to be the boss! Most new managers learn the hard way by making mistakes.
Don't learn the hard way. Come to this workshop and learn how to be an awesome manager so you just don't survive in your new role, but so you thrive in your new role!
Areas Covered in the Session:
Critical skills to ease the transition from "staff" to supervisor
Discover powerful tools to manage "friends" and former colleagues
Master 3 tools to make communication easier, with everyone every time
Essential tools for tough conversations, performance feedback, and other supervisory challenges
Learn what never to say during a disciplinary conversation-hint it's not what you think
Who Will Benefit:
Senior Leadership
Managers/Supervisors/Team Leads
Sales Representatives
HR Professionals
Support Staff
Any professional who knows better listening will impact their lives
Instructor:

Rhonda Scharf CSP, HoF Insightful humorous entertaining even contagious words that are often used to describe Rhonda Scharf. A speaker with the uncanny ability to look at the normal and see something quite different.

Rhonda is a Professional Speaker and member of the Canadian Speaking Hall of Fame, Trainer and Author, based in Ottawa. She has spoken to tens of thousands of people in dozens of different countries.

Rhonda will share some things she has learned to help you excel in your work environment, emerging at the end of the day with a smile and a sense of accomplishment. Audiences far and wide sing her praises for her relevant and useful tips on administration, communication and workplace effectiveness! From efficiency to the future of work; Rhonda has the info to help you thrive!

She knows how to make you laugh and she knows how to get you to question why you do what you do. Her natural warmth and sincerity are balanced by a healthy sense of the absurd, a combination that is useful in any situation.

Rhonda has written eight books, with her latest "Alexa is Stealing her Job" and her best-seller "Common Sense is NOT Common Practice" still available.

Rhonda's professional speaking career began at age two… when her mother would offer her 25 cents to be quiet for five minutes!