The use of this seal confirms that this activity has met HR Certification Institutes (HRCI) criteria for recertification credit pre-approval.
This activity has been approved for 1.5 HR (General) recertification credit hours toward aPHR, PHR, PHRca, SPHR, GPHR, PHRi and SPHRi recertification through HR Certification Institute (HRCI). Please make note of the activity ID number on your recertification application form. For more information about certification or recertification, please visit the HR Certification Institute website at www.hrci.org." ...more
---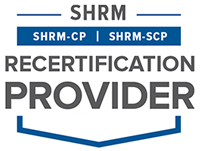 HRTrainOnline is recognized by SHRM to offer Professional Development Credits (PDCs) for the SHRM-CP® or SHRM-SCP®.
?
1-hour educational program = 1 PDC.
1-hour and 15 minute concurrent conference session = 1.25 PDCs.
3-hour e-learning course = 3 PDCs.
Overview:
In spite of good hiring and inspired leadership, all supervisors ultimately must deal with someone with Toxic Attitude Syndrome.
Whether it's crummy attitude, attendance, or just unable to do good work; employee performance issues often consume large amounts of time, energy, and emotion. In fact, 57% of employees have witnessed abusive or intimidating behavior and probably 100% work with someone who isn't pulling their weight.
This webinar is designed to give managers insight and tools for effectively dealing with performance issues.It is a challenging job but with the right preparation, we can hold employees accountable and improve our organizations. You will receive several handouts that will act as a toolkit to get you started with your own program
Why should you Attend:
Copy of the presentation. A sample corrective action policy. Sample corrective action documentation form. A termination checklist. A sample Performance Improvement Plan (PIP) form. A sample Investigation Questionnaire Form.
Areas Covered in the Session:
How to start off on the right foot by creating clear expectations
How poor performance effects organizational performance and work environments
How progressive discipline policies can hurt you
Why probationary periods may be a bad idea
What is employment-at-will and when can you use it?
The key concepts in just cause
Steps for conducting disciplinary investigations
How to hold employees accountable for sustained change
A simple system for determining how to coach employees
Dealing with difficult people
11 barriers supervisors face in managing behavior
Methods for objectively documenting Toxic Attitude Syndrome
How to prepare for termination
How to prepare for and conduct a disciplinary meeting
Performance Improvement Plans - receive a sample form
Setting SMART goals for employee performance
Who Will Benefit:
Managers and Supervisors who have responsibility for corrective Action
Human Resources Professionals
People who aspire to Leadership and Supervisory positions
Instructor:

Tonia Morris, your Generational Connector, and Founder of Simply HR, LLC a Consultant and Management Firm along with a speaking and training company, Tonia Morris Speaks, provides leaders with training solutions that cultivate a generationally-inclusive work place.

Before starting her business in 2010, Tonia was Executive Director of Human Resources for one of the largest state pension agencies in the Southeast; she has also worked in an HR leadership capacity in other industries, including government, retail, information technology and education.

Tonia's passion for understanding the different dynamics of people led her on a quest to solve generational issues within organizations. Tonia noticed that the workforce was aging and changing, so she provided training solutions on engaging and managing a multi-generational workforce to be productive. With more than 20+ years of progressive HR experience, Tonia provides keynote speeches, lunch-and-learns, and workshops for organizations and associations across the Southeast.

She has partnered with organizations such as Chick-fil-A, Oracle, Spelman and Kennesaw University to name a few, to bring training solutions for engaging Millennials in the workplace, working with leaders to transform their cultures by attracting, developing and retaining a workforce that is generationally inclusive.

Tonia holds a BS in Business Administration from the University of South Florida. She currently serves on the Board of Directors for the Millennial Chamber of Commerce, where she also serves as the organization's HR Director, and volunteers for the Women's Entrepreneurial Opportunity Project.

She resides in Grayson, GA, with her husband of 24 years, and two sons. In her free time, Tonia loves collecting and making jewelry, and is known in the community as "the jewelry lady."