The use of this seal confirms that this activity has met HR Certification Institutes (HRCI) criteria for recertification credit pre-approval.
This activity has been approved for 1.5 HR (General) recertification credit hours toward aPHR, PHR, PHRca, SPHR, GPHR, PHRi and SPHRi recertification through HR Certification Institute (HRCI). Please make note of the activity ID number on your recertification application form. For more information about certification or recertification, please visit the HR Certification Institute website at www.hrci.org." ...more
---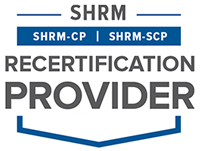 HRTrainOnline is recognized by SHRM to offer Professional Development Credits (PDCs) for the SHRM-CP® or SHRM-SCP®.
?
1-hour educational program = 1 PDC.
1-hour and 15 minute concurrent conference session = 1.25 PDCs.
3-hour e-learning course = 3 PDCs.
Overview:
The training on "Mastering Difficult Conversations: Effective Strategies for Engaging with Challenging Employees" is a comprehensive program designed to equip participants with the skills, knowledge, and strategies needed to navigate difficult conversations successfully. This training will provide participants with a deep understanding of the dynamics involved in addressing challenging employees, along with proven techniques for fostering positive outcomes.
Throughout the training, participants will explore various aspects of difficult conversations, including understanding the impact of avoiding or mishandling them, preparing effectively, and setting the stage for productive dialogue. The training will emphasize the importance of effective communication strategies, active listening, and managing emotions to create a safe and supportive environment for open dialogue.
Participants will learn how to provide constructive feedback, set clear expectations, and collaboratively work toward performance improvement. They will also gain valuable insights into handling resistance, defensiveness, and conflicts that may arise during these conversations. Conflict resolution techniques, negotiation strategies, and approaches to finding win-win solutions will be explored to promote positive outcomes.
The training will emphasize the importance of follow-up and ongoing support, enabling participants to monitor progress, provide feedback, and celebrate positive changes. Additionally, self-care and reflection will be addressed to ensure participants can effectively manage their own emotions and maintain their well-being during challenging conversations.
Upon completion of the training, participants will leave with enhanced confidence, competence, and a toolkit of practical strategies to address difficult conversations with difficult employees effectively. They will be better equipped to foster accountability, motivation, and positive change within their teams and organizations.
Why should you Attend:
There are several compelling reasons why attending this training on having difficult conversations with difficult employees can be highly beneficial:
Enhanced Leadership Skills: Effective leaders can handle tough conversations. This program will give you the confidence, empathy, and assertiveness to handle difficult circumstances. These abilities will improve your leadership and help you manage challenging personnel.
Better Employee Performance: Difficult dialogues can improve employee performance and behavior. This course will teach you how to give feedback, set expectations, and work together to enhance performance. Higher productivity, employee engagement, and a better work environment can result.
Conflict Resolution and Relationship Building: Difficult employees typically cause team friction. You'll learn active listening, conflict resolution, and defensiveness reduction in this program. Attending will teach you how to resolve issues and improve relationships with colleagues, creating a more harmonious and collaborative workplace.
Professional Growth and Development: Being able to have unpleasant talks is a crucial ability. This training can be used to handle tough clients, resolve workplace disputes, and handle personal conflicts. This program will help you build your communication and interpersonal skills.
Confidence and Resilience: Dealing with tough colleagues can be unpleasant. This training will help you control your emotions and respond to employee emotions. Attending will boost your confidence and resilience in stressful interactions, allowing you to remain calm and collected.
Organizational Impact: Your company's success depends on your ability to handle unpleasant conversations with problematic workers. Attending this course will improve employee happiness, workplace culture, and turnover. Leadership qualities improve team dynamics and help organizations achieve goals.
This course will help you handle challenging interactions with troublesome workers. It will boost employee performance, strengthen relationships, and promote your professional advancement. Attend this course to strengthen your leadership skills and learn how to handle complex staff issues.
Areas Covered in the Session:
The training course on "Mastering Difficult Conversations: Effective Strategies for Engaging with Challenging Employees" covers the following key areas:
Understanding Difficult Conversations
Preparing for the Conversation
Setting the Stage
Effective Communication Strategies
Managing Emotions
Constructive Feedback and Performance Improvement
Handling Resistance and Defensiveness
Conflict Resolution Techniques
Follow-Up and Support
Self-Care and Reflection
Who Will Benefit:
Small Business Owners
Leaders
Managers
Team Leaders
Project Managers
Department Heads
Supervisors
Anyone in a Leadership Role
Instructor:

Carolyn D. Riggins Carolyn D. Riggins founded CDR Consulting Services, LLC, a consultancy firm focusing on helping businesses and organizations enhance their performance and leadership teams for success. With Ms. Riggins' 35 years of experience in the financial industry working with businesses and 24 years of experience in management roles, her consultancy service provides invaluable insights and expertise to clients looking to improve their business and leadership capabilities.

CDR Consulting Services offers a range of services, including training, coaching, team development, and critical gap detection. Ms. Riggins works with CEOs, business leaders, and managers to identify areas of improvement within their organizations and provides customized solutions to address these areas. Her training and coaching programs are designed to help individuals and teams develop the necessary skills and knowledge to succeed in their roles.

Ms. Riggins' team development services focus on creating a culture of collaboration and communication within organizations. Through her team-building programs, she helps teams develop a shared vision, enhance their problem-solving abilities, and increase their productivity. Her critical gap detection services enable clients to identify and address gaps in their business performance and leadership teams, ensuring that their organizations are well-positioned for growth and success.

With CDR Consulting Services, clients can benefit from Ms. Riggins' extensive knowledge, experience, and expertise in the financial industry and leadership development. Her consultancy service provides customized solutions that help organizations build strong, successful leadership teams, and achieve their goals.