The use of this seal confirms that this activity has met HR Certification Institutes (HRCI) criteria for recertification credit pre-approval.
This activity has been approved for 1.5 HR (General) recertification credit hours toward aPHR, PHR, PHRca, SPHR, GPHR, PHRi and SPHRi recertification through HR Certification Institute (HRCI). Please make note of the activity ID number on your recertification application form. For more information about certification or recertification, please visit the HR Certification Institute website at www.hrci.org." ...more
---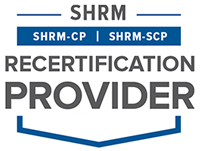 HRTrainOnline is recognized by SHRM to offer Professional Development Credits (PDCs) for the SHRM-CP® or SHRM-SCP®.
?
1-hour educational program = 1 PDC.
1-hour and 15 minute concurrent conference session = 1.25 PDCs.
3-hour e-learning course = 3 PDCs.
Overview:
The topic, "Managers Mastering the Art of Effective Follow-Up: Navigating the 30-60-90 Days Performance Improvement Plan," delves into the pivotal role of effective follow-up in driving employee growth and organizational success. In a dynamic business landscape, fostering employee development and ensuring optimal performance is paramount. This webinar offers managers a comprehensive guide to navigating the intricate process of performance improvement plans (PIPs) over the course of 30, 60, and 90 days.
The webinar equips managers with essential strategies and techniques to conduct impactful follow-up conversations that combine constructive feedback with motivational support. Participants will gain insights into the psychology of effective follow-up, learning how to build trust, rapport, and open communication with employees on performance improvement plans. The session emphasizes the significance of striking a balance between feedback and encouragement to create a positive and conducive environment for growth.
Attendees will explore the nuances of preparing for follow-up conversations, including gathering relevant data, setting clear expectations, and crafting a structured agenda. The webinar also hones in on active listening and communication skills, helping managers engage empathetically with employees' perspectives and handle challenging responses professionally.
Furthermore, the webinar covers the progressive stages of 30, 60, and 90 days follow-up, each with its unique goals and objectives. Managers will learn how to assess initial progress, identify early wins, address challenges, and collaboratively adjust strategies to ensure continuous improvement. The session also provides guidance on evaluating comprehensive progress over the PIP timeline and transitioning employees towards sustainable growth.
By attending this webinar, managers gain the tools to empower employees through individualized follow-up plans, navigate difficult conversations, foster inclusivity, and promote a culture of continuous learning and development. The knowledge and skills acquired will enable managers to create a positive impact on employee performance, team dynamics, and the overall success of the organization.
Why should you Attend:
Attending the "Managers Mastering the Art of Effective Follow-Up: Navigating the 30-60-90 Days Performance Improvement Plan" webinar offers managers a comprehensive understanding of effective follow-up's critical role in employee development and organizational success. Here's why managers should attend:
Learn essential techniques for conducting impactful follow-up conversations, cultivating trust, and motivating employees on performance improvement plans
Gain insights into structuring and navigating the 30-60-90 days performance improvement plan, ensuring clear objectives and targeted strategies for employee growth
Acquire strategies to provide constructive feedback, balancing praise and areas for improvement, fostering a supportive and productive work environment
Develop skills to address challenges faced by employees during the plan, promoting collaboration, and steering individuals towards successful outcomes
Learn how to empower employees through active listening, communication, and tailored approaches, encouraging their ownership of professional development
Understand the significance of proper documentation and adherence to legal requirements in the follow-up process, mitigating potential risks
Learn how effective follow-up contributes to cohesive team dynamics, driving accountability, engagement, and a culture of continuous improvement
Attending this webinar equips managers with the skills to navigate performance improvement plans successfully, fostering employee growth, and creating a thriving workplace environment.
Areas Covered in the Session:
The training session, "Managers Mastering the Art of Effective Follow-Up: Navigating the 30-60-90 Days Performance Improvement Plan," will cover the following key essential areas:
Understanding the Performance Improvement Plan (PIP) Process
Essential Follow-Up Principles
Preparing for Follow-Up Conversations
Active Listening and Communication Skills
Conducting 30-Day PIP Follow-Ups
Enhancing Performance through 60-Day PIP Follow-Ups
Navigating 90-Day PIP Follow-Ups for Sustainable Growth
Dealing with Resistance and Difficult Conversations
Creating a Culturally Inclusive Follow-Up Environment
Crafting Individualized Follow-Up Plans
Continuous Improvement in Follow-Up Skills
In this comprehensive training session, managers will gain the knowledge and practical skills necessary to navigate the intricacies of the performance improvement plan process, conduct effective follow-up conversations, and empower employees towards sustained growth and success.
Who Will Benefit:
Small Business Owners
Leaders
Managers
Team Leaders
Project Managers
Department Heads
Supervisors and anyone in Leadership Role
Instructor:

Carolyn D. Riggins Carolyn D. Riggins founded CDR Consulting Services, LLC, a consultancy firm focusing on helping businesses and organizations enhance their performance and leadership teams for success. With Ms. Riggins' 35 years of experience in the financial industry working with businesses and 24 years of experience in management roles, her consultancy service provides invaluable insights and expertise to clients looking to improve their business and leadership capabilities.

CDR Consulting Services offers a range of services, including training, coaching, team development, and critical gap detection. Ms. Riggins works with CEOs, business leaders, and managers to identify areas of improvement within their organizations and provides customized solutions to address these areas. Her training and coaching programs are designed to help individuals and teams develop the necessary skills and knowledge to succeed in their roles.

Ms. Riggins' team development services focus on creating a culture of collaboration and communication within organizations. Through her team-building programs, she helps teams develop a shared vision, enhance their problem-solving abilities, and increase their productivity. Her critical gap detection services enable clients to identify and address gaps in their business performance and leadership teams, ensuring that their organizations are well-positioned for growth and success.

With CDR Consulting Services, clients can benefit from Ms. Riggins' extensive knowledge, experience, and expertise in the financial industry and leadership development. Her consultancy service provides customized solutions that help organizations build strong, successful leadership teams, and achieve their goals.