The use of this seal confirms that this activity has met HR Certification Institutes (HRCI) criteria for recertification credit pre-approval.
This activity has been approved for 1 HR (General) recertification credit hours toward aPHR, PHR, PHRca, SPHR, GPHR, PHRi and SPHRi recertification through HR Certification Institute (HRCI). Please make note of the activity ID number on your recertification application form. For more information about certification or recertification, please visit the HR Certification Institute website at www.hrci.org." ...more
---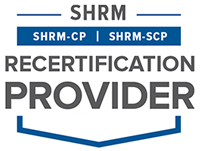 HRTrainOnline is recognized by SHRM to offer Professional Development Credits (PDCs) for the SHRM-CP® or SHRM-SCP®.
?
1-hour educational program = 1 PDC.
1-hour and 15 minute concurrent conference session = 1.25 PDCs.
3-hour e-learning course = 3 PDCs.
Overview:
Multiple generations comprise today's workforce, and each has varied work habits, work and communication styles, expectations, and goals. Employers who implement strategies that optimize a multigenerational workforce will heighten their reputation as a great place to work and their business goals.
However, the possibility for conflict and misunderstanding is very real. Different generations can struggle to understand one another's values and working styles. Working together and sharing power can also be problematic. And, if this conflict is not resolved it can lead to productivity and retention issues.
While managing such an age-diverse workforce is certainly not without its challenges, there are many benefits to teams and workgroups that spans multiple generations. The big advantage is that different generations can grow and learn from one another as they are exposed to one another's ideas and experiences. This can drive innovation and promote more effective ways of working.
However, for managers of multigenerational workforces, engaging all generations is essential - not just for employee satisfaction but also for the company's overall success. Diverse and inclusive workplaces have higher employee retention, higher revenue growth, and a greater readiness to innovate. What strategies can your organization use to reap the benefits of a multigenerational workforce?
In this webinar participants will examine the generational diversity in the workplace; review both the potentials and pitfalls associated with it; and learn best practices that will help them tackle the various challenges as well as to effectively engage, communicate, and manage their multi-generational teams.
Why should you Attend:
Today's organizations can employ people from four different generations- Boomers, Gen X, Millennials, and Gen Z – and what we are seeing is that each has their unique work styles, preferences, perceptions, goals, and expectations.
Therefore, as a leader, manager, or supervisor, you currently face a formidable challenge: how to effectively manage this multigenerational workforce so that they will work well together, collaborate, problem-solve, and gets results. With their varied perspectives, aspirations, and beliefs, it can lead to team conflicts as well as difficulty in uniting everyone to pursue a shared goal. The most common challenges faced by multigenerational teams are:
The Different Priorities of Each Generation
The Communication Style of Each Generation
The Work/Life Balance Expectations of Each Generation
While managing a generationally diverse team can be challenging, well-managed multigenerational teams also produce huge benefits by utilizing the broad range of skills and experiences of its members. The most successful leaders understand that different generations bring unique strengths to the workplace. That's why it's important to be able to adapt your management style and develop effective ways to communicate, engage, and motivate each generation to fully contribute to the team.
In this webinar you will examine the generational diversity in the workplace; review both the potentials and pitfalls associated with it; and learn the five common difficulties leaders face when it comes to leading diverse groups of employees across different generations as well as the ten best strategies to encourage productive teamwork.
Areas Covered in the Session:
Recognize the diverse perspectives and preferences of your cross-generational team members
Learn 10 essential management practices to keep multigenerational teams engaged and productive
Realize how perceptions about the different generations in the workplace can impact team dynamics
Examine both the Potential and Pitfalls of a multi-generational workplace and how to reap the benefits
Identify the characteristics of each age group: values, communication and work styles, priorities, expectations
Review 3 simple teambuilding for your hybrid / remote teams that encourage greater trust and communication
Who Will Benefit:
CEO
CCO
VP Human Resources
HR Directors
Chief Learning Officer Functional Managers
Projects Managers
Anyone Who Manages/Leads Workgroups
Teams
Instructor:

Marcia Zidle is a board-certified executive coach, business management consultant and keynote speaker, who helps organizations to leverage their leadership and human capital assets.

She has 25 years of management, business consulting and international experience in a variety of industries including health care, financial services, oil and gas, manufacturing, insurance, pharmaceuticals, hospitality, government and nonprofits.

She brings an expertise in strategy and alignment; social and emotional intelligence; executive and team leadership; employee engagement and innovation; personal and organization change management.

She has been selected one of LinkedIn Profinder's top coaches for the past 5 years.