The use of this seal confirms that this activity has met HR Certification Institutes (HRCI) criteria for recertification credit pre-approval.
This activity has been approved for 1 HR (General) recertification credit hours toward aPHR, PHR, PHRca, SPHR, GPHR, PHRi and SPHRi recertification through HR Certification Institute (HRCI). Please make note of the activity ID number on your recertification application form. For more information about certification or recertification, please visit the HR Certification Institute website at www.hrci.org." ...more
---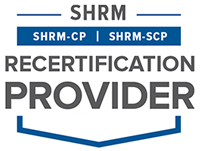 HRTrainOnline is recognized by SHRM to offer Professional Development Credits (PDCs) for the SHRM-CP® or SHRM-SCP®.
?
1-hour educational program = 1 PDC.
1-hour and 15 minute concurrent conference session = 1.25 PDCs.
3-hour e-learning course = 3 PDCs.
Overview:
The new Monkey Pox and COVID strains continues to present new challenges and issues and with it comes to keeping employees safe, feeling secure, and managing the impacts of absenteeism that pose challenges for small business owners and leaders. Reactions continue range from excited to frustrated, and everything in between
In this webinar we discuss:
Why you should Attend:
Have concerns about what to do when the threat of another pandemic surfaces
How to continue to deal with the rapid changes in COVID strains that impact productivity at work
Are in HR or new to HR
Are in a leadership position and need more information while building or expanding their plan to address the company's response to the coronavirus
Areas Covered in the Session:
What options employers have when dealing with increasing absenteeism
How do the Federal and State Family Medical Leave laws work
What are the paid sick leave requirements employers are required to adhere to during a public health crisis
How long are the provisions are in place
Is an employee's job is protected?
When can employees use accrued Paid Time Off
What notifications employees are required to provide employers when out on leave
How the changing laws potentially impact collective bargaining agreements
How do OSHA standards apply
and more
Who Will Benefit:
Business Owners and Operators
Novice and Experienced HR Generalists and Administrative Assistants
Payroll Staff
Small Business Administrative Assistants
Instructor:

Brenda Neckvatal is an international award-winning HR professional and two time Best Selling Author. Not only does she help business leaders get the people side of their business right, she is a specialist in crisis management, government contracting HR compliance, and mentor to rising entrepreneurs, business leaders, HR champions and professionals. Brenda has been featured in Forbes, Fast Company, Inc, as well as US News and World Reports. She started as an HR sprout after a solid fourteen-year career in retail management. She really enjoys helping people solve their unique problems, and human resources offered her the ability to support her co-workers more. Having the benefit of working for six Fortune 500 companies, she converted her experience into advising her audience to use tried and trusted best practices that help small businesses achieve their workforce goals. In her combined 30-year career in human resources and business, she has consulted with over 500 small businesses and C-suite leaders. She has optimized employee effectiveness and helped mitigate the high costs associated with making hasty employment-related decisions. She has been involved with employee situations where they have engaged in workplace violence, a near stabbing, deliberately inciting fear in other coworkers, stalking women, breaches of protocol around national security, assault, suicide, death, homicide, and a potential active shooter. Brenda is a devoted volunteer in the Navy SEAL Community and is constantly finding new ways of supporting veterans of Naval Special Warfare. She dedicates 32 weeks a year to working with The Honor Foundation to support the career transition of Special Forces personnel by providing them with her knowledge, insight, and creativity. Perseverance, integrity, and relentless optimism are just a few of the ingredients that make up what you experience when meeting and working with Brenda.