The use of this seal confirms that this activity has met HR Certification Institutes (HRCI) criteria for recertification credit pre-approval.
This activity has been approved for 1 HR (General) recertification credit hours toward aPHR, PHR, PHRca, SPHR, GPHR, PHRi and SPHRi recertification through HR Certification Institute (HRCI). Please make note of the activity ID number on your recertification application form. For more information about certification or recertification, please visit the HR Certification Institute website at www.hrci.org." ...more
---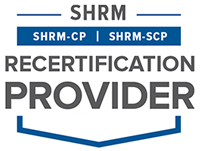 HRTrainOnline is recognized by SHRM to offer Professional Development Credits (PDCs) for the SHRM-CP® or SHRM-SCP®.
?
1-hour educational program = 1 PDC.
1-hour and 15 minute concurrent conference session = 1.25 PDCs.
3-hour e-learning course = 3 PDCs.
Overview:
Who takes up more of your time than any other employees?
Who keeps you awake at night, wondering what they'll do next?
Who distracts you and your team from its mission?
Who do you wish would "get with the program?"
Who do you wish would just "go away?"
That's right - EMPLOYEES FROM HELL. Want to do something about them? In this dynamic webinar, Larry Johnson will give you:
A simple method for diagnosing aberrant employee behaviors
6 key steps to confront unacceptable behaviors
Follow-up tactics that ensure problems get solved for good
It has been said that people are your greatest resource - and it's true. Great organizations are made up of great people. It is also true, however, that:
One non-performer can lower the standards of performance for everyone
One bad actor can affect the morale of those around him
One disruptive character can make life miserable for those who work with her and especially for you
In this webinar, you'll learn techniques to deal effectively with these problem children so they either become productive members of your team, or they go away.
Areas Covered in the Session:
Determining Your Strategy
Creating a culture of positive accountability
A fresh approach to rewarding the behaviors you want
One question that will tell you how to proceed
Three factors you must consider to determine if the person is worth the energy required to save them
Keep them or fire them - a simple method for calculating the trade-offs
Conducting The Intervention
Preparing yourself so you're likely to succeed
Six steps to follow that will raise the odds your EFH will change
Do's and Don'ts that will reduce the odds you'll end up in court
Following Up
The "Ross Perot" technique for dealing with behavioral slippage
When and how to cut your losses
Respite for your conscience - why you shouldn't beat yourself up for doing what's right
Who Will Benefit:
Anyone who works with other people
Instructor:

Larry Johnson , CSP is the co-author of two top-selling books: Absolute Honesty: Building A Corporate Culture That Values Straight Talk And Rewards Integrity and Generations Inc. – From Boomers To Linksters – Managing The Friction Between Generations At Work. He's also written for Huffington Post and has been quoted in the Wall Street Journal and the Harvard Business Review. He has been interviewed on CNN. Larry has written more than 200 published articles on the topic of improving organizational culture.

An in-demand speaker and organization culture expert, Larry has delivered more than 2000 paid presentations for association conferences, corporations, and government organizations including Texas Apartment Association, American Bus Association, SHRM (Society of Human Resource Management), National Apartment Association, American Health Care Association, Harley-Davidson, Southwest Airlines, Westinghouse and the Nuclear Regulatory Commission.
He's also presented more than 300 webinars for his own clients and for various webinar companies. Larry's Education & Designation
• M.A. Counseling Psychology - Northern Arizona University, Flagstaff AZ
• B.A. Education - Arizona State University, Tempe AZ
• CSP - Certified Speaking Professional from the National Speakers Association

Larry's Experience
• 4 years in health care management
• 7 years as training manager in government and the private sector
• 35 years as president of his own training and consulting firm