The use of this seal confirms that this activity has met HR Certification Institutes (HRCI) criteria for recertification credit pre-approval.
This activity has been approved for 1 HR (General) recertification credit hours toward aPHR, PHR, PHRca, SPHR, GPHR, PHRi and SPHRi recertification through HR Certification Institute (HRCI). Please make note of the activity ID number on your recertification application form. For more information about certification or recertification, please visit the HR Certification Institute website at www.hrci.org." ...more
---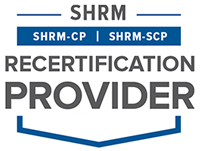 HRTrainOnline is recognized by SHRM to offer Professional Development Credits (PDCs) for the SHRM-CP® or SHRM-SCP®.
?
1-hour educational program = 1 PDC.
1-hour and 15 minute concurrent conference session = 1.25 PDCs.
3-hour e-learning course = 3 PDCs.
Overview:
Cross-Cultural Communication is a broad topic that can be broken down into entire fields of study. In this basic course, you can expect to be taken through many of the fundamentals of Cross-Cultural Communication, starting with the understanding of how both culture and how communication function.
Communication is not a one-size-fits-all and neither should one's understanding of it be. Communication is more than just verbal and non-verbal, it deals with a person's perceptions, attitudes, motivations, and behaviors, and through this course, we will talk about how intrinsically these topics are performed and how they affect the way people communicate.
Culture is just as varied as communication, if not more so. The way people define their identity through maintaining norms, across both countries and across cultures in regard to their family, community, nation, and religion can be broken down into many categories and qualities.
This course will cover the fundamentals of how culture can resist or adsorb change in regard to current events or its own people; the level of change that may be acceptable for different cultures to handle; the way people in various cultures may adapt to others or integrate new views or practices into their own culture or communities; the way people in various cultures see and deal with time and specifically how that can affect business relations; the difference between one's national culture and one's individual or community cultures. This introduction to culture is just a taste of the topics one can dive into to gain a better understanding of how it functions, and how understanding culture in relation to business allows people to better understand one's target audience and how to adapt their message or product to boost profitability.
After gaining an understanding of both communication and culture, will we bring these two ideas together to home on the question, "How do people assess information?" I find this question to be important in understanding how Cross-Cultural Communication functions. This training will discuss how people focus in conversations, either broadly or specifically, and how that can change the meaning of what is spoken; how the difference between direct or indirect language leaves room for interpretation within one meaning; how the formalities of various cultures affect the way we conduct business and how one shows respect; how various cultures deal with risks and how this can affect protocols or business relations; where various cultures place the importance of context and how that affects non-verbal communication; and how different cultures may reward their workers and employees based upon individual or group performance.
When learning about culture, it is important to take note of how unconscious biases may affect one's understanding of business. We will also discuss stereotyping, assumed similarities, and selectivity regarding how perceptions can affect profitability. Leaving biases unchecked can also lead to Cross-Cultural conflict, especially when dealing with a difference in aspects of working or when dealing with a difference in core values. Discussing the conflict in this way will also offer a better understanding of how some cultures prefer to deal with fixing conflicts.
Similar to conflict, understanding how to give or receive feedback is another subject that can ensure a better working environment. We will discuss what truly matters when giving feedback regarding giving it to a group or individual, if it's used for improvement, or if it's a part of a process or regular check-in, as well as the importance of asking questions.
All of this and more will showcase how when you understand how culture and communication work together, it can boost your business's bottom line and can bring you a more prosperous business.
Why you should Attend:
As a result of ever-shifting demographics, advances in technology, and policy changes around the world, communicating across cultures is a necessity in today's global business.
As corporations, organizations, and especially virtual businesses continue to grow, it is necessary that these organizations and leaders must have a culturally diverse workforce and/or the skills necessary to work successfully across cultures.
Already, multicultural teams make up a large portion of the workforce. Leaders, corporations, and organizations need more than just good communication skills to ensure they continue to perform at their highest level. This training can lift the lens of culture to promote a clear understanding of perspectives across countries and cultures. Communication is not a one-size-fits-all and neither should one's understanding of it be. Mona Lou can start you on your journey to understanding how, through just learning the basics of cross-cultural communication, doors will open to show you a path to a more profitable business.
How many times have you assumed a business deal you were working on was going great but ended up falling through? How often have you had misunderstandings in the workplace that consistently resurface? How much money do you think you have left on the table time and time again?
This training can help you better understand why communicating across cultures is a skill that can give you an advantage over other competitors and ensure you leave with a deeper understanding of how culture affects communication. Mona can help show how an understanding of the dimension of culture can enhance productivity, & profitability.
Areas Covered in the Session:
Communication; How does communication function?

Perceptions, Attitudes, Behaviors, Motivations, Verbal & Non-Verbal

Culture; How does culture function?

Identity, Change, Adaptation, Time, National V Individual Cultures
Understanding Business in Relation to Culture

Cross-Cultural Communication. How do people assess information?

Communication Focus, Uncertainty Avoidance, Level of Directness, Formality, & Context
Checking your biases: Selectivity, Assumed Similarity, Stereotyping

Cross-Cultural Conflict

Differences in Attitudes/Aspects of Working/Values

Feedback

What matters when giving feedback?
Who Will Benefit:
Organizations and leaders seeking to enhance their cultural Intelligence to
Instructor:

Mona Lou is a byproduct of cultural intelligence. Having been born in Morocco, then moving to the United States, Mona experienced what it was to undergo the nuances of cultural differences, culture shock, information transfer, and cross-cultural barriers.

With over 30 years of experience in cross-cultural communication, international sales, diverse team building, and leadership, Mona Lou is equipped to empower, lead, and transform in the new global business arena.

In addition to running a boutique real estate catered to foreign-nationals and corporate portfolio, Mona speaks, consults, coaches, and trains on cultural intelligence as it relates to profitability, harmony, and team performance. She equips leaders and organizations with strategies and solutions to overcome cross-cultural barriers and cultural incompetence preventing them from thriving in the new global business arena. Mona also keynotes on unconscious bias and its damaging impact on the workplace and the business bottom line. Outside of work Mona is a social entrepreneur with the heart of a servant. She is currently the president of Moroccan American Professional Women Association (MAPWA), a board director at the Central Florida International Chamber of Commerce, the organizer for Global Women's Club of Central Florida, and a corporate coach for Toastmasters International. Mona is also a member of the Women Speaker Association the National Speaker Association, and the National Association of Women Business Owners.

Mona thrives to assist in building a world where there is ethical, inclusive leadership, harmony, and respect that drive productivity