The use of this seal confirms that this activity has met HR Certification Institutes (HRCI) criteria for recertification credit pre-approval.
This activity has been approved for 1 HR (General) recertification credit hours toward aPHR, PHR, PHRca, SPHR, GPHR, PHRi and SPHRi recertification through HR Certification Institute (HRCI). Please make note of the activity ID number on your recertification application form. For more information about certification or recertification, please visit the HR Certification Institute website at www.hrci.org." ...more
---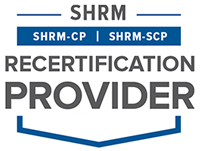 HRTrainOnline is recognized by SHRM to offer Professional Development Credits (PDCs) for the SHRM-CP® or SHRM-SCP®.
?
1-hour educational program = 1 PDC.
1-hour and 15 minute concurrent conference session = 1.25 PDCs.
3-hour e-learning course = 3 PDCs.
Overview:
"ChatGPT Simplified: Easing into AI with a Gentle Approach" is an entry-level webinar that offers a comprehensive introduction to AI and ChatGPT. This webinar is designed to help HR professionals navigate the intricate world of AI, providing a stepping stone to understand its implications and applications in HR.
The advent of AI has profoundly impacted businesses across industries, and HR is no exception. However, for many HR professionals, AI remains an intimidating concept, fraught with complex jargon and seemingly insurmountable technicalities. This webinar aims to break down these barriers, offering a simple and comprehensive understanding of AI, specifically focusing on ChatGPT, a state-of-the-art language model developed by OpenAI.
ChatGPT, powered by machine learning, has the potential to automate and enhance various HR functions. From streamlining administrative tasks to transforming recruitment processes and improving employee engagement, the applications are vast and impactful. But how can HR professionals with no prior experience with AI harness the power of ChatGPT? This webinar seeks to answer this question and more.
We will start by demystifying AI and ChatGPT. You'll learn what AI is, what it isn't, and how ChatGPT fits into the AI landscape. We'll explore how ChatGPT works, its capabilities, and its potential applications in the realm of HR.
Next, we'll delve into the step-by-step process of integrating ChatGPT into your HR operations. From understanding your needs to implementing the tool and monitoring its performance, we'll provide a roadmap that you can follow to successfully adopt ChatGPT in your HR practices.
One of the significant hurdles in adopting AI in HR is the fear and misconceptions associated with it. Many worry that AI might render their roles obsolete, or that it might lead to impersonal, mechanized HR practices. This webinar aims to debunk these misconceptions. You'll learn that AI, particularly ChatGPT, is not a threat but a tool designed to augment your capabilities and free up your time from mundane tasks, allowing you to focus on strategic and human-centric aspects of HR.
Moreover, the webinar emphasizes the importance of building a culture of AI literacy in your HR team. Understanding AI and its implications is not just beneficial but essential in the modern HR landscape. We'll discuss strategies and resources to foster continuous learning and curiosity about AI in your team.
Lastly, navigating the evolving field of AI can be overwhelming. But you don't have to do it alone. This webinar serves as your guide, helping you stay updated and relevant in the face of rapid technological advancements in HR.
"ChatGPT Simplified: Easing into AI with a Gentle Approach" is not just a webinar; it's a learning journey. It's an invitation to step out of your comfort zone, to turn fear into curiosity, uncertainty into clarity, and to confidently stride into the future of HR. Whether you're new to AI or looking to solidify your understanding, this webinar offers valuable insights and practical guidance to navigate the AI revolution in HR.
Why should you Attend:
In the rapidly evolving world of Human Resources, failing to adapt to new technologies can lead to dangerous stagnation, while learning to leverage them can propel you ahead. AI, often shrouded in jargon and complexities, has been a source of fear and uncertainty for many HR professionals. However, ignoring this powerful tool is not an option if you aim to stay competitive in your field.
"ChatGPT Simplified: Easing into AI with a Gentle Approach" offers a lifeline to those who may feel adrift in the sea of AI. This webinar serves as a beacon, guiding you through the intimidating fog of unfamiliar terms and concepts. We understand your concerns about AI, and we are here to address them head-on.
You might worry that AI is too complex to understand, that it might render your role obsolete, or that it could lead to impersonal, mechanized HR practices. These fears are natural but largely unfounded. This webinar aims to dispel your doubts, clear the uncertainties, and alleviate your fears. You will learn that AI, specifically ChatGPT, is not a replacement for HR professionals, but a tool designed to enhance your capabilities and efficiency.
Remember, your competitors are not shying away from AI. They are embracing it, using it to optimize their HR practices, to recruit better, to manage more effectively, and to engage their employees in novel ways. Don't let fear hold you back. Equip yourself with the knowledge and confidence to harness the power of AI.
"ChatGPT Simplified: Easing into AI with a Gentle Approach" is more than just a webinar. It's a ladder offering you a way up, a means to rise above the fear, uncertainty, and doubt, and take control. This is your chance to turn fear into curiosity, uncertainty into clarity, and doubt into confidence.
Step into the future of HR with us. Embrace the revolution, and become a leader in your field. This is not just an invitation to a webinar; it's an invitation to a brighter, bolder future in HR. Don't miss it.
Areas Covered in the Session:
Introduction to AI and ChatGPT
Understanding the basics of ChatGPT
Step-by-step process to integrate ChatGPT into HR operations
Debunking common misconceptions about AI in HR
Building a culture of AI literacy in HR
Strategies for continuous learning in the evolving field of AI and HR
Who Will Benefit:
HR Managers
HR Directors
HR Consultants
Recruitment Specialists
Talent Acquisition Managers
Training and Development Managers
Employee Engagement Specialists
Organizational Development Professionals
HR Analysts
Chief Human Resource Officers
HR Business Partners
HR Generalists
HR Coordinators
HR Assistants
Instructor:

Thea Ducrow , Ph.D., your mentor in the quest of integrating AI into your HR practices. As an AI Creative Leadership Consultant, she acknowledges the complexities HR professionals confront in this swiftly evolving, technology-driven era. Amid these growing challenges, Dr. Ducrow emerges as your reliable advisor who has navigated this landscape and effectively harnessed the power of AI in human resources.

Dr. Ducrow, with her substantial experience, has enabled leaders and organizations to stimulate innovation and growth through AI, illuminating a clear pathway to success. As an engaging and adept webinar presenter, she has an exceptional talent for translating intricate AI concepts into actionable insights and strategies.

Her core values – creativity, innovation, collaboration, a growth mindset, and integrity – mirror her conviction in aligning tech innovation with human aspirations and needs, an approach that will deeply resonate with HR professionals.

Driven by her commitment to delivering the best for her audience, Dr. Ducrow actively keeps herself at the cutting edge of industry trends. Her proactive approach in updating her knowledge ensures that you receive the most contemporary and effective strategies, tailored to the changing needs of the HR landscape.

Join Dr. Ducrow in "ChatGPT & HR: An Introduction for HR Pros," a journey that will equip you with the tools to proficiently navigate the crossroads of AI and HR. Dr. Ducrow's goal is not just to impart knowledge, but to support you in transforming your HR practices and achieving success with AI. This is your invitation to embrace the potential of AI in HR, aided by an expert who understands the unique challenges and opportunities of your field.