The use of this seal confirms that this activity has met HR Certification Institutes (HRCI) criteria for recertification credit pre-approval.
This activity has been approved for 1 HR (General) recertification credit hours toward aPHR, PHR, PHRca, SPHR, GPHR, PHRi and SPHRi recertification through HR Certification Institute (HRCI). Please make note of the activity ID number on your recertification application form. For more information about certification or recertification, please visit the HR Certification Institute website at www.hrci.org." ...more
---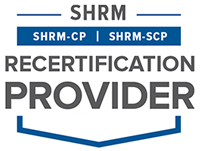 HRTrainOnline is recognized by SHRM to offer Professional Development Credits (PDCs) for the SHRM-CP® or SHRM-SCP®.
?
1-hour educational program = 1 PDC.
1-hour and 15 minute concurrent conference session = 1.25 PDCs.
3-hour e-learning course = 3 PDCs.
Overview:
If you Iook under the hood of ChatGPT, it is technically called a Large Language Model or LLM and is a sophisticated form of autocomplete.
What makes it phenomenal is that when you ask it a question, it has the capacity to form an answer from all of the information on the internet. A simple example is the autocomplete used in email or on smartphones.
However, it should be noted that ChatGPT's knowledge base does have limitations and can potentially give outdated responses until updates of the system are performed. It also tends to fill in gaps in information with potentially inaccurate data. This requires human resource employees to critically evaluate the information.
Another caution is that it does not understand the nuances of company culture, once again requiring human input.
In this webinar you'll get "under the hood" information.
Why should you Attend:
We invite you to attend this webinar and overcome fears of how AI and specifically ChatGPT will revolutionize productivity in HR departments as up to 80% of the US workforce will have at least 10% of their rote and routine tasks impacted.
It is true that just as with the Industrial Revolution and arrival of the Internet, some jobs were lost but many more were created, the same is predicted for ChatGPT.
While AI can streamline processes, is it not capable of exhibiting the empathy and compassion that are required into day's world of emphasis on well-being, employee engagement and a people-focused organization.
The vision of the impact of AI tools on the work done in Human Resources is not about replacing employees but rather using AI to complement and improve human work in our fast-paced work environment. As this occurs, ChatGPT's capabilities will give HR employees time to tackle more complex work and to focus on higher-level tasks.
Areas Covered in the Session:
AI can't replace the HUMAN in Human Resources, but you will not want to miss the information in this webinar that tells you the benefits ChatGPT offers the HR department including:
Improving the quality and experience of work rather than replace employees
Streamlining recruiting and onboarding processes
Writing job advertisements with keywords and candidate outreach copy
Drafting interview questions
Providing real-time guidance when onboarding new hires and automate tasks such as scheduling meetings or sending reminders to complete tasks
Upgrading training and development programs in a minimum of time
Drafting performance reviews for customization, saving the manager time
Saving employees time and effort spent on routine and rote work enabling them to devote time to higher-level tasks
Writing professional goals
A discussion on ChatGPT would not be complete without insight on what can go wrong with the system. Educating employees will be critical as we go forward with the intention of responsible and ethical AI. In this webinar you'll learn what:
Responsibilities should NOT be turned over to AI
Cautions to take when uploading content to ChatGPT
Ethical concerns need to be monitored
Who Will Benefit:
All employees in the HR department including:
Chief Human Resources Officer
Human Resources Generalist
HR Business Partner
Director of Human Resources
VP of Human Resources
Other titles under the auspices of Human Resources such as:
Recruiter
Benefits
Organizational Development
Learning and Development
Instructor:

Thea Ducrow , Ph.D., your mentor in the quest of integrating AI into your HR practices. As an AI Creative Leadership Consultant, she acknowledges the complexities HR professionals confront in this swiftly evolving, technology-driven era. Amid these growing challenges, Dr. Ducrow emerges as your reliable advisor who has navigated this landscape and effectively harnessed the power of AI in human resources.

Dr. Ducrow, with her substantial experience, has enabled leaders and organizations to stimulate innovation and growth through AI, illuminating a clear pathway to success. As an engaging and adept webinar presenter, she has an exceptional talent for translating intricate AI concepts into actionable insights and strategies.

Her core values – creativity, innovation, collaboration, a growth mindset, and integrity – mirror her conviction in aligning tech innovation with human aspirations and needs, an approach that will deeply resonate with HR professionals.

Driven by her commitment to delivering the best for her audience, Dr. Ducrow actively keeps herself at the cutting edge of industry trends. Her proactive approach in updating her knowledge ensures that you receive the most contemporary and effective strategies, tailored to the changing needs of the HR landscape.

Join Dr. Ducrow in "ChatGPT & HR: An Introduction for HR Pros," a journey that will equip you with the tools to proficiently navigate the crossroads of AI and HR. Dr. Ducrow's goal is not just to impart knowledge, but to support you in transforming your HR practices and achieving success with AI. This is your invitation to embrace the potential of AI in HR, aided by an expert who understands the unique challenges and opportunities of your field.