The use of this seal confirms that this activity has met HR Certification Institutes (HRCI) criteria for recertification credit pre-approval.
This activity has been approved for 1 HR (General) recertification credit hours toward aPHR, PHR, PHRca, SPHR, GPHR, PHRi and SPHRi recertification through HR Certification Institute (HRCI). Please make note of the activity ID number on your recertification application form. For more information about certification or recertification, please visit the HR Certification Institute website at www.hrci.org." ...more
---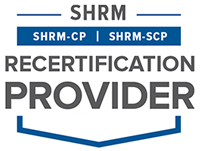 HRTrainOnline is recognized by SHRM to offer Professional Development Credits (PDCs) for the SHRM-CP® or SHRM-SCP®.
?
1-hour educational program = 1 PDC.
1-hour and 15 minute concurrent conference session = 1.25 PDCs.
3-hour e-learning course = 3 PDCs.
Overview:
In an age where talent is the most valuable resource, the recruitment process is undergoing a seismic shift.
Traditional methods are increasingly proving to be inefficient, costly, and less effective in attracting the right talent. The webinar, "ChatGPT & Midjourney: Crafting Recruiting Magnets," aims to address these challenges head-on, offering a modern approach to recruitment that leverages the power of artificial intelligence and storytelling.
The Necessity for Change:
In a rapidly evolving business landscape where talent often serves as a competitive edge, the recruitment process is more crucial than ever. Despite an array of digital tools and platforms at their disposal, recruiters still face challenges in identifying and attracting the right candidates. This underscores the need for innovative approaches to recruitment, which is precisely what our webinar aims to offer.
ChatGPT: The Power of Narrative:
ChatGPT specializes in generating human-like text, enabling recruiters to script emotionally engaging narratives that resonate with prospective candidates. Imagine job descriptions that not only list qualifications but also tell a compelling story about the role and the company. This level of engagement can set the stage for attracting candidates who are not just skilled but also culturally aligned with your organization's values.
Midjourney: Visual Storytelling Reimagined:
Midjourney complements ChatGPT by providing the visual aspect of storytelling through its generative AI capabilities. Whether it's creating dynamic visual ads or generating eye-catching social media content, Midjourney allows you to visually represent your employer brand in a way that captures attention and evokes emotion.
Symbiosis of Text and Visuals:
The webinar will explore how to synergistically use ChatGPT and Midjourney to create a cohesive and impactful employer brand. By aligning textual narrative with visual elements, recruiters can create a multi-sensory experience that not only attracts but also retains top talent. This holistic approach is designed to engage candidates across multiple platforms-be it LinkedIn, job boards, or your company website-thereby ensuring a consistent brand message.
Metrics that Matter: KPIs for Success:
While storytelling is essential, it must also be quantifiable to evaluate its effectiveness. This webinar will delve into the Key Performance Indicators (KPIs) that matter in recruitment, such as click-through rates on job ads, quality of applicants, time-to-hire, and retention rates. It will guide you on how to measure these metrics and use the data for continuous improvement.
Why This Webinar Is Crucial:
You'll walk away from this webinar with a roadmap for crafting a recruiting magnet, empowered by the capabilities of ChatGPT and Midjourney. The "ChatGPT & Midjourney: Crafting Recruiting Magnets" webinar is more than just a learning opportunity; it's a call to action. It offers recruiters the chance to revolutionize their strategies, employing technology and storytelling to attract and retain the best talent. Don't miss this opportunity to step into the future of recruiting.
Why should you Attend:
In today's hyper-competitive job market, the traditional methods of recruiting are quickly becoming obsolete. If you're still relying solely on old-school approaches, you're likely facing high costs-per-hire, longer time-to-fill metrics, and lower-quality candidates. The fear of missing out on top talent, the uncertainty of how to navigate the digital landscape effectively, and the doubt about whether your strategies are really working can be paralyzing.
Don't let Fear, Uncertainty, and Doubt (FUD) cripple your recruiting efforts.
Our upcoming webinar, "ChatGPT & Midjourney: Crafting Recruiting Magnets," is designed to be your ultimate guide to overcoming these challenges. We combine the power of textual narrative through ChatGPT with the visual allure of Midjourney's generative AI capabilities. The result? A holistic, AI-enhanced recruitment strategy that not only captures attention but also emotionally engages your target candidates.
Overcome Fear: Learn to use AI-powered tools that will help you create compelling job ads, automate candidate engagement, and tailor your employer brand narrative.
Eliminate Uncertainty: Gain insights into which platforms are most effective for your unique needs, and how to maintain consistency in both messaging and visuals across these channels.
Dissolve Doubt: Understand the KPIs that matter. Measure the real impact of your efforts and continuously refine your strategy for sustained success.
By attending this webinar, you'll walk away with actionable strategies and tools that will significantly elevate your recruiting game. Say goodbye to fear, uncertainty, and doubt, and say hello to a streamlined, effective recruitment process that delivers the talent you've been searching for.
Don't miss this opportunity to revolutionize your recruitment strategies. Act now, before your competitors do.
Areas Covered in the Session:
Aligning ChatGPT & Midjourney with Employer Brand
Scripting and Visuals for Candidate Engagement
Multi-Channel Recruitment Strategy with AI
KPIs for AI-Enhanced Recruiting Success
Who Will Benefit:
Recruitment Specialists
Talent Acquisition Managers
Recruiting Coordinators
Head of Talent Acquisition
Recruitment Operations Managers
HR Managers
HR Directors
HR Consultants
Training and Development Managers
Employee Engagement Specialists
Organizational Development Professionals
HR Analysts
Chief Human Resource Officers
HR Business Partners
HR Generalists
HR Coordinators
HR Assistants
Instructor:

Thea Ducrow , Ph.D., your mentor in the quest of integrating AI into your HR practices. As an AI Creative Leadership Consultant, she acknowledges the complexities HR professionals confront in this swiftly evolving, technology-driven era. Amid these growing challenges, Dr. Ducrow emerges as your reliable advisor who has navigated this landscape and effectively harnessed the power of AI in human resources.

Dr. Ducrow, with her substantial experience, has enabled leaders and organizations to stimulate innovation and growth through AI, illuminating a clear pathway to success. As an engaging and adept webinar presenter, she has an exceptional talent for translating intricate AI concepts into actionable insights and strategies.

Her core values – creativity, innovation, collaboration, a growth mindset, and integrity – mirror her conviction in aligning tech innovation with human aspirations and needs, an approach that will deeply resonate with HR professionals.

Driven by her commitment to delivering the best for her audience, Dr. Ducrow actively keeps herself at the cutting edge of industry trends. Her proactive approach in updating her knowledge ensures that you receive the most contemporary and effective strategies, tailored to the changing needs of the HR landscape.

Join Dr. Ducrow in "ChatGPT & HR: An Introduction for HR Pros," a journey that will equip you with the tools to proficiently navigate the crossroads of AI and HR. Dr. Ducrow's goal is not just to impart knowledge, but to support you in transforming your HR practices and achieving success with AI. This is your invitation to embrace the potential of AI in HR, aided by an expert who understands the unique challenges and opportunities of your field.