The use of this seal confirms that this activity has met HR Certification Institutes (HRCI) criteria for recertification credit pre-approval.
This activity has been approved for 1 HR (General) recertification credit hours toward aPHR, PHR, PHRca, SPHR, GPHR, PHRi and SPHRi recertification through HR Certification Institute (HRCI). Please make note of the activity ID number on your recertification application form. For more information about certification or recertification, please visit the HR Certification Institute website at www.hrci.org." ...more
---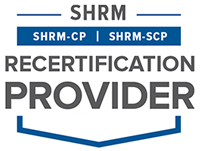 HRTrainOnline is recognized by SHRM to offer Professional Development Credits (PDCs) for the SHRM-CP® or SHRM-SCP®.
?
1-hour educational program = 1 PDC.
1-hour and 15 minute concurrent conference session = 1.25 PDCs.
3-hour e-learning course = 3 PDCs.
Overview:
The "ChatGPT & HR: Do's & Don'ts" webinar is designed to provide HR professionals with a comprehensive understanding of the key do's and don'ts when using ChatGPT in their operations. As the use of AI in HR becomes more prevalent, it's crucial to understand how to use these tools effectively and ethically.
In this webinar, we will delve deep into the best practices for using ChatGPT in various HR functions. We'll explore how to use ChatGPT to automate routine tasks, enhance recruitment processes, improve employee engagement, and much more. We'll also discuss how to avoid common pitfalls when using ChatGPT and other AI tools in HR.
A key focus of the webinar will be on the ethical considerations when using AI in HR. We'll address important issues such as privacy, fairness, and transparency, and provide guidance on how to use ChatGPT in a way that upholds these principles.
The webinar will also provide practical, step-by-step guidance on how to integrate ChatGPT into your HR operations. We'll cover everything from the initial stages of identifying your needs to the final stages of implementation and monitoring.
Finally, we'll discuss how to handle potential challenges and issues that might arise when using ChatGPT in HR. We'll provide practical solutions and strategies to tackle these challenges, helping you navigate any hurdles that might come your way.
"ChatGPT & HR: Do's & Don'ts" is not just a webinar; it's a guide to navigating the complexities of using AI in HR. Whether you're a seasoned HR professional or new to the field, this webinar offers valuable insights and practical guidance to help you harness the power of AI in HR.
Why should you Attend:
In the rapidly evolving landscape of HR, keeping up with the latest technology such as AI can be daunting. The fear of misuse, the uncertainty of best practices, and doubts about ethical implications can often overshadow the potential benefits of AI tools like ChatGPT. "ChatGPT & HR: Do's & Don'ts" aims to clear these apprehensions and equip HR professionals with the knowledge they need to use ChatGPT effectively and ethically.
While AI holds immense potential to revolutionize HR operations, the fear of misuse is very real. Without clear guidelines and understanding, AI tools like ChatGPT can be misused, leading to unintended consequences. This webinar will provide a clear set of do's and don'ts, helping you avoid common pitfalls and use ChatGPT to its full potential in an ethical and effective manner.
Uncertainty about the right way to use AI in HR can hinder its adoption. This webinar aims to provide clarity and guidance, outlining the best practices for using ChatGPT in HR. From recruitment to employee engagement, we'll cover how to use ChatGPT effectively across various HR functions.
If you've ever doubted the ethical implications of using AI in HR, this webinar is for you. We'll address important ethical considerations and provide guidance on using ChatGPT in a way that respects privacy, promotes fairness, and upholds the highest ethical standards.
"ChatGPT & HR: Do's & Don'ts" is not just a webinar; it's your guide to navigating the complexities of using AI in HR. Don't let fear, uncertainty, and doubt hold you back. Join us and learn how to use ChatGPT in HR confidently, effectively, and ethically.
Areas Covered in the Session:
Essential do's and don'ts when using ChatGPT in HR
Understanding the ethical considerations of AI in HR
Advanced technical tips for optimally utilizing ChatGPT
Case studies on successful and problematic implementations of ChatGPT
Avoiding bias in AI-driven HR processes
The importance of transparency when using AI tools in HR
Who Will Benefit:
HR Managers
HR Directors
HR Consultants
Recruitment Specialists
Talent Acquisition Managers
Training and Development Managers
Employee Engagement Specialists
Organizational Development Professionals
HR Analysts
Chief Human Resource Officers
HR Business Partners
HR Generalists
HR Coordinators
HR Assistants
Instructor:

Thea Ducrow , Ph.D., your mentor in the quest of integrating AI into your HR practices. As an AI Creative Leadership Consultant, she acknowledges the complexities HR professionals confront in this swiftly evolving, technology-driven era. Amid these growing challenges, Dr. Ducrow emerges as your reliable advisor who has navigated this landscape and effectively harnessed the power of AI in human resources.

Dr. Ducrow, with her substantial experience, has enabled leaders and organizations to stimulate innovation and growth through AI, illuminating a clear pathway to success. As an engaging and adept webinar presenter, she has an exceptional talent for translating intricate AI concepts into actionable insights and strategies.

Her core values – creativity, innovation, collaboration, a growth mindset, and integrity – mirror her conviction in aligning tech innovation with human aspirations and needs, an approach that will deeply resonate with HR professionals.

Driven by her commitment to delivering the best for her audience, Dr. Ducrow actively keeps herself at the cutting edge of industry trends. Her proactive approach in updating her knowledge ensures that you receive the most contemporary and effective strategies, tailored to the changing needs of the HR landscape.

Join Dr. Ducrow in "ChatGPT & HR: An Introduction for HR Pros," a journey that will equip you with the tools to proficiently navigate the crossroads of AI and HR. Dr. Ducrow's goal is not just to impart knowledge, but to support you in transforming your HR practices and achieving success with AI. This is your invitation to embrace the potential of AI in HR, aided by an expert who understands the unique challenges and opportunities of your field.