The use of this seal confirms that this activity has met HR Certification Institutes (HRCI) criteria for recertification credit pre-approval.
This activity has been approved for 1.5 HR (General) recertification credit hours toward aPHR, PHR, PHRca, SPHR, GPHR, PHRi and SPHRi recertification through HR Certification Institute (HRCI). Please make note of the activity ID number on your recertification application form. For more information about certification or recertification, please visit the HR Certification Institute website at www.hrci.org." ...more
---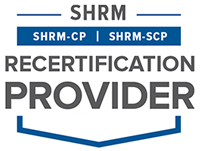 HRTrainOnline is recognized by SHRM to offer Professional Development Credits (PDCs) for the SHRM-CP® or SHRM-SCP®.
?
1-hour educational program = 1 PDC.
1-hour and 15 minute concurrent conference session = 1.25 PDCs.
3-hour e-learning course = 3 PDCs.
Overview:
This webinar will address the statistics behind pay program design and administration, from the design of pay structures through the analysis of pay survey data.
It will explore how practitioners create and analyze pay ranges, pay survey data, individual and group pay rates, and other elements of a compensation program. It will address such questions as:
how do you calculate minimums and maximums of a pay range, knowing just the new midpoints?
what is a compa-ratio, and how are they used?
how do you calculate a percentile, and how are percentiles used?
why are weighted averages used by the majority of Compensation practitioners, and not the median? what is the difference between simple regression analysis and multiple regression analysis, and how do practitioners use these concepts in a practical way?
what is correlation analysis and how does this analysis help in pay program administration?
when you are creating new pay structures, how can you estimate the number of grade levels between new midpoints using selected midpoint to midpoint spread percentages?
why do practitioners divide pay ranges into quartiles?
Knowing these statistical concepts can improve your ability to create and analyze your compensation program.
Why should you Attend:
Have you ever wondered about the "math" of managing and administering a Compensation Program? Have you ever been faced with making a calculation that you didn't understand? Or understanding the rationale behind a pay program statistic?
In this webinar David J. Wudyka will identify the measures that Compensation professionals use when they design and administer pay programs, from the creation of pay structures through the analysis of pay survey data. If you are a practitioner who needs to understand the underlying statistics of the elements of compensation programs, this webinar is for you. Have a question about a statistic that may not be in this webinar? If so, the webinar leader will provide the answer during or after the webinar.
Areas Covered in the Session:
How to create and analyze pay range widths ("spreads")
Why "weighted averages" are more widely used than "medians"
Defining "means", "medians" and "modes" (and how to use them)
How to understand the statistics of pay structure design
Understanding the difference between regression and correlation analysis, and how to apply them effectively in pay program analysis
How "percentiles" differ from "percents", and how to calculate them
How to calculate rate range minimums and maximums from estimated midpoints
Calculating the "penetration" of pay rates in pay ranges
The Compa-ratio: what it is, how to calculate it and how to used it
Why pay ranges are divided into "quartiles"
The difference between "linear regression" and "multiple regression"
How to estimate the number of grade levels between two new pay structure midpoints
What are "measures of central tendency" and why are they important for analysis?
Who Will Benefit:
Compensation Analysts
Human Resource Managers
Human Resource Generalists
Financial Managers
Human Resource Managers who are New to the Compensation Function
Instructor:

David J. Wudyka, MBA, is the Managing Principal of Westminster Associates of Wrentham, MA (www.westminsterassociates.net). He has over thirty years experience as a Human Resource Consultant with a specialty in Compensation Consulting. David has taught extensively in colleges and universities such as UMass Boston, Bryant University, and the U.S. Coast Guard Academy. David is especially interested in how the HR Dept. can strengthen its role as a Strategic Partner in businesses today. He is writing extensively about how to improve pay transparency and to reduce the gender pay gap in ways that make sense for businesses of all sizes.