The use of this seal confirms that this activity has met HR Certification Institutes (HRCI) criteria for recertification credit pre-approval.
This activity has been approved for 1 HR (General) recertification credit hours toward aPHR, PHR, PHRca, SPHR, GPHR, PHRi and SPHRi recertification through HR Certification Institute (HRCI). Please make note of the activity ID number on your recertification application form. For more information about certification or recertification, please visit the HR Certification Institute website at www.hrci.org." ...more
---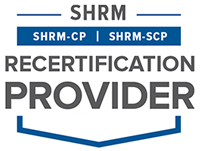 HRTrainOnline is recognized by SHRM to offer Professional Development Credits (PDCs) for the SHRM-CP® or SHRM-SCP®.
?
1-hour educational program = 1 PDC.
1-hour and 15 minute concurrent conference session = 1.25 PDCs.
3-hour e-learning course = 3 PDCs.
Overview:
This in-depth webinar will explore the driven results behind the personality test, focusing particularly on three popular personality tests.
Most results are ignored after the initial review once employees complete them. However, in this session, discover how these tools can be used to identify the diverse strengths within your team and foster a high-trust environment. Understand how to leverage these insights to optimize communication, motivate effectively, resolve conflicts, and ultimately elevate your team's performance.
For Team Leaders, Sales Managers, and Marketing Directors, this webinar will help you understand how to engage with your team members based on their personality types. If you are a General Manager, Operations Manager, or Organizational Development Specialist, you'll learn strategies to create balanced teams that enhance productivity.
For Talent Development Managers, Performance Managers, and Training and Development Managers, this webinar is an invaluable resource. It provides insights on adapting your strategies to suit different personality types. And if you are in a customer-facing role, such as a Customer Service Manager or an Administrative Supervisor, this webinar will equip you with techniques to manage diverse personalities effectively.
This session is also vital for top-level executives such as Chief Executive Officers, Chief Operations Officers, Executive Directors, and Chief People Officers. Here, you'll learn how understanding personality types can be instrumental in crafting a harmonious, high-trust organizational culture.
Take the first step towards a better, stronger, and more harmonious team. Join us for "The Power of Personality: Creating Harmonious and High-performing Teams." Unleash the potential that lies in the diversity of your team's personalities. Book your slot today!
Why should you Attend:
As a leader, do you wonder how to create high-performing, harmonious teams? The secret is in understanding how to fully utilize personality types. This webinar, "The Power of Personality: Creating Harmonious and High-Performing Teams", is specifically designed for leaders across roles - whether you are a Human Resources Manager, a Project Manager, a Business Owner, or a CEO.,"
Areas Covered in the Session:
Why your team is failing to meet your expectations.
A brief introduction to the science and theories behind personality tests, including popular models such as Myers-Briggs.
Comprehensive understanding of different personality types and how they play a crucial role in team dynamics.
Exploration of how different personalities communicate and interpret information.
Insight into the role of diverse personalities in contributing to a high-performing team.
Knowledge of mitigating potential conflicts that can arise between different personality types.
In-depth strategies for creating balanced teams that leverage a diverse set of personality types.
Techniques for adapting and coaching others on communication styles to suit different personality types.
Methods for managing conflicts by understanding the underlying personality influences.
Tailoring motivational techniques to match team members' personality types.
Case study insights showcasing how teams thrived by understanding.
Who Will Benefit:
Human Resources Managers
Team Leaders
Project Managers
Department Heads
Chief Executive Officers
Operations Managers
General Managers
Business Owners / Entrepreneurs
Sales Managers
Marketing Directors
Customer Service Managers
Administrative Supervisors
Executive Directors
Chief Operations Officers
Organizational Development Specialists
Talent Development Managers
Chief People Officers
Employee Relations Managers
Performance Managers
Training and Development Managers
Instructor:

Brenda Neckvatal is an international award-winning HR professional and two time Best Selling Author. Not only does she help business leaders get the people side of their business right, she is a specialist in crisis management, government contracting HR compliance, and mentor to rising entrepreneurs, business leaders, HR champions and professionals. Brenda has been featured in Forbes, Fast Company, Inc, as well as US News and World Reports. She started as an HR sprout after a solid fourteen-year career in retail management. She really enjoys helping people solve their unique problems, and human resources offered her the ability to support her co-workers more. Having the benefit of working for six Fortune 500 companies, she converted her experience into advising her audience to use tried and trusted best practices that help small businesses achieve their workforce goals. In her combined 30-year career in human resources and business, she has consulted with over 500 small businesses and C-suite leaders. She has optimized employee effectiveness and helped mitigate the high costs associated with making hasty employment-related decisions. She has been involved with employee situations where they have engaged in workplace violence, a near stabbing, deliberately inciting fear in other coworkers, stalking women, breaches of protocol around national security, assault, suicide, death, homicide, and a potential active shooter. Brenda is a devoted volunteer in the Navy SEAL Community and is constantly finding new ways of supporting veterans of Naval Special Warfare. She dedicates 32 weeks a year to working with The Honor Foundation to support the career transition of Special Forces personnel by providing them with her knowledge, insight, and creativity. Perseverance, integrity, and relentless optimism are just a few of the ingredients that make up what you experience when meeting and working with Brenda.