The use of this seal confirms that this activity has met HR Certification Institutes (HRCI) criteria for recertification credit pre-approval.
This activity has been approved for 1 HR (General) recertification credit hours toward aPHR, PHR, PHRca, SPHR, GPHR, PHRi and SPHRi recertification through HR Certification Institute (HRCI). Please make note of the activity ID number on your recertification application form. For more information about certification or recertification, please visit the HR Certification Institute website at www.hrci.org." ...more
---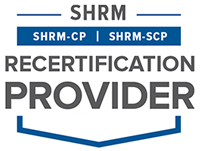 HRTrainOnline is recognized by SHRM to offer Professional Development Credits (PDCs) for the SHRM-CP® or SHRM-SCP®.
?
1-hour educational program = 1 PDC.
1-hour and 15 minute concurrent conference session = 1.25 PDCs.
3-hour e-learning course = 3 PDCs.
Overview:
When we can identify when a person is seeking to interact for the purposes of a specific outcome, we can recognize we are in the play of the game. The game of negotiations, game of debates, discussions, diplomacies, or even confrontations. These situations are all beckoning for a specific conciliation, concession, or compromise. How we enter the talks and what we walk away with will leave us either ecstatic or letdown. So, when in the midst of all of this do we give our power away?
All aspects of whom we are playing a role in the outcome. Our belief systems, and how we perceive ourselves to play a significant role in our ability to leave with the outcome we want. Taking the time to self-reflect on what we believe within ourselves, how we perceive ourselves, and the vision we hold all align and play a role in our wanted outcome.
If we perceive ourselves as small, the victim, the underdog as the foundation of entering into any situation, we have established ourselves to give our power away.
To take back your power means to hold a vision of yourself such that life becomes a walk to it. The shift must first occur inside. Making decisions from a place of confidence and power is absolutely essential to take back your power. We will learn what action is actually giving our power away and what action needs to take place in order to take our power back.
Why you should Attend:
What triggers us into giving away our power? Some will say that there are many reasons. However, we will take a look at the myths and the reality. Perceptions and judgments prompt us into giving our power away. Judgment is projected upon us in many ways. We all have a time of anger, jealousy, hurt, pain, or negativity caused by situations or words that judge us. Our work is judged, our skills are judged, timeliness, appearance, the list goes on and on. As a result, some of us have experienced feelings of insecurity, feeling unloved and so much more. Self-judgment and the judgment of others have an impact. Along with the perceptions of others. Trying to please others in this situation is the act of giving away your power. These are all aspects of life. However, how we choose to respond to it determines the effects in our future. So, it's time to take our power back.
Areas Covered in the Session:
Dealing with Limiting Beliefs (Dealing with Negative Self Talk and Blame)
Whatever you believe to be true will be true
Shifting Victim to Owner
Decision Making: Accessing Your Intuition
Taking Your power back - Methods and tips
Who Will Benefit:
Women
Corporate Women
Entrepreneur Women
HR Personnel
Instructor:

Enolia Foti is an Award-Winning International Speaker, International Empowerment Educator, Social Entrepreneur, Life and Business Coach, and Author. ENOLIA holds a BS in Mathematics from the University of Massachusetts in Amherst and an MBA from Regis University, where she graduated Suma Cum Laude from her class and was inducted to the Alpha Sigma Nu Honor Society. Her 20-plus years navigating the dynamics of the corporate world fortified her with leadership development, coaching, and various certifications.

She holds several IT certifications and has networked entire IT solutions for global organizations in both profit and non-profit sectors as well as served on multiple boards. A natural orator, ENOLIA harmonizes corporate experience with a broad knowledge base that includes many traditions from around the world. To motivate and inspire others to reach their goals, she shares the ancient wisdom she gained under the tutelage of Indigenous elders from the Ojibwa, Lakota, Yaqui, Hopi, Apache Nation of North America, Mapuche of Chile, Toltec of Mexico, Waitaha of New Zealand, and the Luhya of Kenya.

She is also an initiate of the Ovimbundu of Angola and the Q'ero of Peru as a keeper of their cosmological traditions. She imparts her gifts to inspire and empower the soul by sharing her cumulative knowledge of ancient practices and teachings up through the present day.