The use of this seal confirms that this activity has met HR Certification Institutes (HRCI) criteria for recertification credit pre-approval.
This activity has been approved for 1 HR (General) recertification credit hours toward aPHR, PHR, PHRca, SPHR, GPHR, PHRi and SPHRi recertification through HR Certification Institute (HRCI). Please make note of the activity ID number on your recertification application form. For more information about certification or recertification, please visit the HR Certification Institute website at www.hrci.org." ...more
---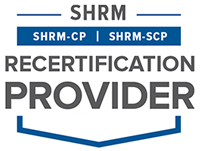 HRTrainOnline is recognized by SHRM to offer Professional Development Credits (PDCs) for the SHRM-CP® or SHRM-SCP®.
?
1-hour educational program = 1 PDC.
1-hour and 15 minute concurrent conference session = 1.25 PDCs.
3-hour e-learning course = 3 PDCs.
Overview:
Whenever we journey into unfamiliar territory our ego creates a story. The question is, is it a positive story or a negative one? We will take the time to redefine what "Fear" means. Once we have our new definition, we can look at everything from a different view.
Changing the view of our limitations: To recognize our limits, when we understand that we do not have anything to fear, we can consciously surpass all limitations resulting in the ability to prosper. We can choose to engage in new experiences and territories expanding the capacity in which we operate knowing that our hearts desire will always lead us into a new realm. This is how we grow, engage and thrive. To consistently surpass our set limitations is to exercise our ability to embrace change as it comes and grow as we engage.
When we reflect back: Once we have moved through the "story" of what was feared, we can reflect back on the account. On every occasion, the realization of what was feared was because we created a projected possibility or end result of our own imagination. In looking back, the unraveling of what took place is never the insurmountable challenge perceived to climb. Learn about the human condition and when it is challenged, how it loves to create stories. Tales that prey on insecurities, lack of capabilities, of knowledge; testing the value of self and worthiness. The generated narrative has obstacles to climb that seem overwhelming or even unbeatable.
If you focus on a negative out-come you will get it: We are all capable of navigating through what seems impossible. Reflecting back shows that the biggest obstacle is how one chooses to perceive the challenge. In this case, it is our own envisioning that may need to be roped in and not the state of affairs. Situations change every moment – because life changes every moment. We can choose to move through the story with an emotional reaction at every turn or as the observer selecting the appropriate path at each turn to traverse each hurdle before us.
Our Challenge: Change is the Constant in life. Making fear the illusion transforms the living of life. Envision a positive outcome when confronted or challenged. Intuit a positive end result whatever the situation or occurrence. Observe and circumnavigate all impossibilities instead of emotionally reacting, which allows for dealing with the most egregious of problems.
To constantly expand our constraints, alter our routine, modify our habits, invite new circumstances along with making different decisions to get new outcomes, embraces our capability of living life to its fullest. The ability to explore and discover at our own pace will reshape the world we create making it significant and a learning experience to share with others. This is how we create a new story in life; daring to engage in our hopes, dreams, passions and loves. Life is what we make it if we can set aside our fears, resistance and criticisms.
Why you should Attend:
Whenever we journey into unfamiliar territory our ego creates a story. The question is, is it a positive story or a negative one? When things are unpredictable and we are uncertain of the outcome, it is normal to hope for a certain desired conclusion. We love to plan our days, expecting we have control of what the next day in our life should look like or be. However, do we really know that the next day will go as planned? In cases when undesired interruptions come into play, don't we just adjust? Ask yourself, if I have the power to adjust to any unexpected interruption, why would I fear the unknown?
Areas Covered in the Session:
Redefining Fear: A different Approach
Recognizing Limits
When We Reflect Back
Our Focus
Our Challenge
Who Will Benefit:
All Individuals Including Employees
Managers
Decision Makers
Entrepreneurs
Corporate Employees
HR Professionals
Instructor:

Enolia Foti is an Award-Winning International Speaker, International Empowerment Educator, Social Entrepreneur, Life and Business Coach, and Author. ENOLIA holds a BS in Mathematics from the University of Massachusetts in Amherst and an MBA from Regis University, where she graduated Suma Cum Laude from her class and was inducted to the Alpha Sigma Nu Honor Society. Her 20-plus years navigating the dynamics of the corporate world fortified her with leadership development, coaching, and various certifications.

She holds several IT certifications and has networked entire IT solutions for global organizations in both profit and non-profit sectors as well as served on multiple boards. A natural orator, ENOLIA harmonizes corporate experience with a broad knowledge base that includes many traditions from around the world. To motivate and inspire others to reach their goals, she shares the ancient wisdom she gained under the tutelage of Indigenous elders from the Ojibwa, Lakota, Yaqui, Hopi, Apache Nation of North America, Mapuche of Chile, Toltec of Mexico, Waitaha of New Zealand, and the Luhya of Kenya.

She is also an initiate of the Ovimbundu of Angola and the Q'ero of Peru as a keeper of their cosmological traditions. She imparts her gifts to inspire and empower the soul by sharing her cumulative knowledge of ancient practices and teachings up through the present day.