The use of this seal confirms that this activity has met HR Certification Institutes (HRCI) criteria for recertification credit pre-approval.
This activity has been approved for 1.5 HR (General) recertification credit hours toward aPHR, PHR, PHRca, SPHR, GPHR, PHRi and SPHRi recertification through HR Certification Institute (HRCI). Please make note of the activity ID number on your recertification application form. For more information about certification or recertification, please visit the HR Certification Institute website at www.hrci.org." ...more
---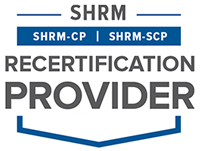 HRTrainOnline is recognized by SHRM to offer Professional Development Credits (PDCs) for the SHRM-CP® or SHRM-SCP®.
?
1-hour educational program = 1 PDC.
1-hour and 15 minute concurrent conference session = 1.25 PDCs.
3-hour e-learning course = 3 PDCs.
Overview:
End of year is always a busy time for everyone in the company. From HR to accounting, everyone has their hands full trying to get everything done before the clock strikes midnight on December 31st. But with a little bit of planning and organization, you can make sure that your year end is successful.
In this webinar, we'll go over all the things you need to do to get ready for year end. We'll talk about how to create a closing schedule, what financial reports you need to run, and how to submit your year-end taxes. We'll also give you some tips on how to stay organized and keep everything moving smoothly.
Why you should Attend:
If you're like most people, you're probably feeling a little bit stressed out about all the things you need to get done before the end of the year. Well, we've got just the thing to help you out. This webinar is chock-full of great tips and advice to help you make it through the end of the year without pulling your hair out. We'll cover everything from how to effectively communicate with your team to budgeting for year-end bonuses. So whether you're an HR pro or an accounting whiz, this webinar is a must-do for anyone who wants to make the most of their end-of-year preparations.
Areas Covered in the Session:
If you are in a leadership position, experienced in HR or new to the Human Resources field, have employees or have a concern about how you will manage your people through crisis, or are a small business owner without a dedicated HR person on staff who's knowledgeable and/or educated in the field of human resources. this presentation will help you to:
Understand due diligence and where the risks are and how to avert them
Discussing options, appraisals and criteria for a selection processes or strategy for a reduction in your workforce
Review your communication and methodology for implementing a reduced workforce to ensure you have a sustainable plan in place for this crisis and the future
Understand the issues around laying off full time and part time employees, requesting staff to take time off or reducing their work hours
Considerations when establishing a hiring or wage freeze or reducing wages
Assist you to understand the ramifications of shutdowns or work furloughs
Manage a reduced workforce process including documenting valid reasons for the reduction and what you need to ensure is completed before you take action
Understand compliance and the periods required for warnings of closures, layoffs or reduction in wages or hours
Clarity on your responsibilities, agreements and employment contracts before you implement reductions and severances
Managing HR is about mitigating risk, reducing conflict and pre-empting issues. The trouble right now is that there is an overwhelming amount of information, and conflicting directives from multiple sources. Because Brenda is monitoring the situation constantly and can apply her years of experience to the scenarios playing out, this presentation is vital for you to stay ahead of the changes and to ensure your workplace is proactively managing expectations, communication and function.
As a result of the training you will be better equipped to make decisions regarding the reduction of your workforce, and be able to lead, or assist leaders in the business, and to prepare the business for ongoing change.
Who Will Benefit:
HR Professionals
Human Resources
Instructor:

Brenda Neckvatal is an international award-winning HR professional and is often referred to as the "HR Force of Nature" by her clients. Not only does she help business leaders solve their most difficult people issues, she is a specialist in crisis management, government contracting HR compliance, and mentor to women in HR working as an HR department of one.

Featured in Forbes and Inc.com, she started as an HR sprout after a solid fourteen year career in retail management. She really enjoys helping people solve their unique problems, and human resources offered her the ability to support her co-workers in a greater capacity. Having the benefit of working for a total of five Fortune 500 companies, she converted her experience into advising her audience to use tried and trusted best practices that help small businesses achieve their workforce goals.

In her 30 year career in human resources and business, she has consulted to nearly 500 small businesses and C-suite leaders. She has optimized employee effectiveness and helped mitigate the high costs that are associated with making hasty employment related decisions.

Brenda is a devoted volunteer in the Navy SEAL Community and is constantly finding new ways of supporting veterans of Naval Special Warfare.

She dedicates 32 weeks a year working with The Honor Foundation to support the career transition of Special Forces personnel by providing them with her knowledge, insight, and creativity.

Perseverance, integrity, and relentless optimism are just of the few of the ingredients that make up what you experience when meeting and working with Brenda.